The 4th "DIQUA CUP"
International Household Appliance Industrial Design Competition
Brand Interpretation
DIQUA takes Savvy、EleganceExpression、Charming、FashionSensitiveness、Nature、Oriental Aesthetics as her brand design language, the harmony of human、machine and nature as her developing philosophy. With her core product series combined with worldwide leading high-tech including "DD-INVERTER", "CLOUD FRESH", "INTELLIGENT MICROWAVE",DIQUA is dedicated to bring healthy, comfortable user experience to our target customers in pursuit of life quality.
10、Application  Process
1 、Organization
Host: Hefei People's Government
Organizers: Hefei Economy and Informatization Commission
Whirlpool(China)Co., Ltd
Co-organizers:
Domestic Appliance Research Institute of China
School of Art Design / Tsinghua University
School of Art Design / Hunan University
School of Design / Jiangnan University
School of Design Innovation / Tongji University
School of Architecture and Art / Hefei University of Technology
School of Art Design / Anhui Polytechnic University
School of Art Design/ Hefei University
(In alphabetical order)
2、Committee Members
Director of organizing committee:
Xiang Wang: Vice Mayor/ Hefei People's Government
Deputy Director of the organizing committee:
Haiying Li: Secretary / Hefei Economy and Informatization Commission
Yonghua Jin: Chairman of Whirlpool(China)Co., Ltd
Committee members:
Hongjie Xie : Deputy Director / Hefei Economy and Informatization Commission
YuPingWei : Deputy Minister / Hefei Municipal Party Propaganda Department
Renke He : Dean / school of Design & Art / Hunan university
Xuebin Li: Deputy Dean / School of Architecture and Art / Hefei University of Technology
Rongzhong Zhang: Senior Vice President /Whirlpool(China)Co., Ltd
Director of the organizing committee office:
Naiqing Jin: Director / Product Planning Center / Whirlpool(China)Co., Ltd
Office members:
Yuezong Sun: Science and Technology Department / Hefei Economy and Informatization Commission
Shouqiang Li: Minister / Industrial Design Department / Product Development Center / Whirlpool(China)Co., Ltd
Xiaochen Yin: School of Architecture and Art / Hefei University of Technology
3、Theme
New Asian Lifestyle
Theme interpretation: Due to rapid economic growth and globalization, Asian lifestyle is also changing rapidly. As Asia's largest economy, the actual influence of China society will expand; along with the continuous improvement of socio-economic level and the impact of various national policies, Chinese people's lifestyle is undergoing tremendous changes. Various social hot events, such as two-child policy, changes in eating habits, improvement in living quality, the pursuit of healthy living, and even Belt and Road initiative and so on will directly affect the future of the Chinese people's lifestyle.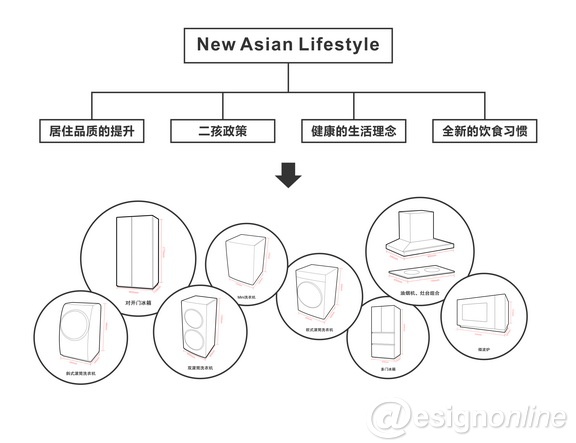 So, what is the real new Asian life? And how is it reflected in the design of everyday items, especially designs of these new lifestyle home appliances? How to create social value by applying the heated topics like two-child policy, concern on health to design? Family time will be more and more precious, so we need to design the household appliances which meet family needs, and which can fulfill people's life. China's strong economic vitality brings various new technologies into being, which may contribute to a healthy lifestyle and ease the pace of work.
4、Project Subject
Project 1: Home appliance product design
Design requirements: Creative appearance and function design on washing machine, refrigerator, kitchen appliances (a series of range hood and cooktop, or microwave oven). Stay around the theme of the contest – New Asian Lifestyle and look for design inspiration from the traditional and emerging high-tech aesthetics to design a new concept with novel fashion, feature-rich for home appliances. Specific requirements are as follows:
1) Design: Meeting the current pursuit of oriental aesthetics, stylish and elegant; achieve perfect combination of aesthetics and ergonomics.
2) UI: Intuitive control and simple logic. Design based on the understanding of user psychology; audio-visual performance full of sensual charm, technological sense, sense of the future.
3) CMF: In line with current international trends in color, material, finish, texture choices, meeting with consumer demand of all ages with international competitiveness.
4) Function: Based on a common basic function and combinated with the consumer demand, implanting some creative functional points, which can enrich design content.
Platform Information: Attached is size requirements for the platform, choose one design size within the requiremets. Strictly follow the platform size, renderings and design specification (specific works renderings, design specifications and other requirements are detailed in the attached) are required.
[Download the attached: A / B / C / D / E / F / G / H / I]
Project 2: UX design
Design requirements:A complete UX design is required to be comprised by control interface of washing machine, refrigerator, kitchen appliances (a series of range hood and cooktop, or microwave oven) and intelligent control terminal app design. Fit the theme of the contest- New Asian Lifestyle, implant interaction design concept for the traditional home appliances and bring the convenience of life, which can be combined with the Internet, smart, VR and other hot concepts. Specific requirements are as follows (generally two directions):
1) Master Interface: Based on thefunctional requirementsof household appliances to design layout, icons, logic and other aspects of washing machine, refrigerator, kitchen appliances (a series of range hood and cooktop, or microwave oven). The display and control can be in any manner.
2) Mobile Terminal UI: a complete APP mobile terminal design, which needs to be implanted with one or more household appliances UX. Providing unique features for experience by combining the Internet emerging hot spots (multi-media, online shopping, etc.,).
Platform information:
Master UX: Select one from washing machine, refrigerator, kitchen appliances (a series of range hood and cooktop, or microwave oven);
Mobile Terminal UI: set washing machines, refrigerators, kitchen appliances and other diversified control functions into one.
5、Participants
Teachers and students from related professionals of colleges and universities worldwide
Freelance designers
Design enthusiasts
(PS: Contestants can participate individually or in group, no more than 3 people per group.)
6、Jury
1) Appliance industry experts
2) Co-design institutions experts
3) Whirlpool Corporation technical experts
4) International industrial design experts
7、Prizes and Incentives
| | | | |
| --- | --- | --- | --- |
| | Winning numbers |  prize money  (¥) | award |
| the Special Prize | 1 | 50000 | Trophy, bonuse, certificate |
| the Gold Prize | 1 | 20000 | Trophies, bonuses, certificate |
| the Silver Prize | 2 | 10000 | Trophies, bonuses, certificate |
| the Bronze Prize | 3 | 5000 | Trophies, bonuses, certificate |
| the recognition award | 50 | | certificate |
Other incentives:
1:We will offer winners opportunities to get internship and the priorities of employment when they apply for our company.
2: For the outstanding organization award winning groups, we will give priorities to establishing long-term cooperation between schools and enterprises.
(PS: Personal income tax should be beard by the winners.)
8: Selection criteria
In line with the theme and works of this competition.
| | | | |
| --- | --- | --- | --- |
| NO. | Attributes | Criteria | Proportion |
| 1 | Innovation | Unique and novel design, outstanding innovation, which can reflect the innovative ability and solving problems. | 30% |
| 2 | Technical | Stable performance, advanced technology, reasonable function, meeting the use, maintenance and safety requirements; It can consider the production process, the cost of materials and other factors, and also the feasibility of production. | 20% |
| 3 | Style | Participants need to reflect the understanding and reflection of cultural backgrounds in the works, to reflect the design features through style; Comfort, convenience, simple recognition and operation, high efficiency, interpersonal coordination. | 20% |
| 4 | Environmental Protection | The requirements of sustainable development focuses on environmental protection and energy saving in manufacturing, distribution, use, recycling. | 15% |
| 5 | Expressive | Reasonable color, its form reflects the combination of technology and art and is in harmony with the surroundings; It can express design intent of the design approach, design details in a greater way. | 15% |
9、Competition schedule
The competition is divided in two stages: initial evaluation and final evaluation. In initial stage, the list of Award of Excellence is determined by scoring system, and top 10 would be selected from the list of Award of Excellence and become the shortlist of the final assessment. In the final stage, the final winners would come out through "model shows – live explanation- judges scoring". Specific schedule is as follows:
Time
Process
Explanation
May. 2016-24:00 p.m 10th Sep. 2016 (deadline)
Work Collection
1. Participents must submit works within the specified time, exceed the deadline will not be involved in the assessment work.
2.Specific detailed submission process, please see the article 10 of announcement – process.
Mid of Sep. 2016
Initial Evaluation, Publicity
1.After the selection, the winning entries in the design competition will be reserved publicly on the "design online" website till the end. During the public exhibition, anything about the complaint of the winning entries which may infringe intellectual property rights or be implicated in plagiarism, as well as questioning the fairness of the assessment results, as long as you can provide conclusive evidence, the organizing committee office will very carefully and seriously deal with that, and will publish of the results timely to the public.
Mid of Sep. – Oct. 2016
Model-making
1.After the finalist published, participants can make further revisions to improve within a specified time, and need to submit a hand model or product.
2.Finalists hand model or product is completed before the final review as required to participate in the final evaluation. Each participating program, the organizing committee subsidies 10,000 yuan model-making fund.
3. Finalists do not participate in the model-making, would be deemed a waiver of the tournament.
In early Nov. 2016
Final assessment, Finalists Exhibition, Awards Ceremony
1. During the final assessment, the organizing committee will organize the final evaluation, products exhibition, carry out "player defense, the judges review", and exhibit shortlisted products for free.
2. Winners of the Special Prize, Gold prize, Silver prize, Bronze prize in the DIQUA Cup will be invited to attend the award ceremony held in Hefei, the organizer will provide the round-trip transportation costs for the award ceremony and accommodation fees in Hefei.
Note:Please pay attention to awards announcement concerning details and requirements of specific model making, the final assessment and ceremony.
About the Competition
International Household Appliance Industrial Design Competition"DIQUA CUP" is an international event hosted by Hefei People's Government with the support from Hefei Economy and Informatization Commission and Whirlpool(China)Co., Ltd. With the city image of "lakeside city and innovation hub" as its background, this competition aims to enhance brand image and promote the progress of industrial design of Hefei household appliance industry. We successfully held DIQUA CUP in the last two years which got the support from Hefei People's Government as well as the co-organizers, greatly achieved a positive social benefit and made an important contribution to establishing a platform and window of seeking, developing and encouraging talents.
Material
Registration Form
Design
Design requirements
Fill in the table of contents, including personal information, design notes, patent ownership of signature
1.Layout of works: 1-2 pages,( JPG. A1 594X841mm, 300dpi, download the design drawing from the attached.
2. Layout should contain topics, renderings, necessary structural, the basic outline drawings, captions, and so on. Renderings of representation are not limited, like sketch or computer, which could clearly express the designer's creativity and design. And it's better to offer different perspective renderings.
3.The following cannot appear on the design drawings, otherwise, will be deemed a waiver from the competition: Participants work unit, name (including English or Pinyin initials),and any identity-related icons、graphics about participants.
Named
1、   Name of registration Form,Design Drawing,Folder
Works category, designer name, contact (washing machine-San Zhang-150**** ****).
2、If there are 2 pages:
Works category, designer name, contact(1)
Works category, designer name, contacty(2)
Delivery method
1、Email
Participants could choose to submit works via e-mail, and the organizing committee will reply after received.
Each e-mail, contained works and application form, no more than 10M. The works more than 10M can be used the same email subject to be sent separately.
Email electronic documents to diqua@whirlpool-china.com .
If you cannot send e-mail or don't receive reply from competition committee after one day, you could contact the competition QQ(1979575193).
2、Mail
Participants could also choose to mail the CD of works and application form.
Mailing address: 96 Science Road, Hefei High-tech Industrial Development of China;
Whirlpool(China)Co., Ltd; The 4th DIQUA Cup" International Household Appliance Industrial Design Competition Committee.
Tel: 0551-65325010
Zip Code: 230088
11、Intellectual Property Protection
Organizers have the right, like display, publishing, promotion, publicity, etc, and can apply for patent for all entries. The entry must be original work, which is unpublished in newspapers, magazines, websites and other media, and have not participated in other competition. Participants should ensure that they have completely intellectual property right to their entries, and cannot copy or violate intellectual property rights of others. If the finalists and winners are found with plagiarism or other tort, the organizer will cancel the entries, finalists and award qualifications, take back bonuses, prizes, award certificates, and release its tort in the media.
For all entries, the winners receive reward means intellectual property rights of winning works belong to the competition organizer, including the rights to copy, distribute, display, deduct and so on. And the organizer needs not to pay additional fees to the winners. Winners reserved for authorship of the works.
12、 Other outstanding issues
Committee will develop the announcement of specific requirements, rules and arrangements timely.The right of final interpretation of this competition belongs to Whirlpool(China)Co., Ltd.
13、 Consultation and Liaison
Tel: +86-551-65325010
Contact Person: Jessica Wang
QQ:1979575193
QQ Group:193367211
E-mail:diqua@whirlpool-china.com
DIQUA Official Website:www.diqua.com
Learn more about the competition information, please pay attention to the DIQUA official we-chat: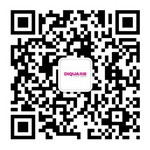 免责声明:以上内容为网上采集的文章、图片,出于对行业传递更多信息之目的,若本文章涉嫌侵犯到您的权益,请及时向info@idform.cn进行反馈,核实无误后进行删除