TOOTHBRUSH byDEFAULT | Designed to match your modern lifestyle, Engineered to be customized to your brushing preferences. An Inter-changeable handle, drop-in vibration module and replaceable head allow you to customize and upgrade the aesthetic, ergonomics & functionality to match your changing styles and needs for years to come.
A LIFESTYLE PRODUCT | tacky colors and gimmicky features are replaced with premium design, giving the toothbrush the attention to detail it deserves as an important everyday object, but people demand more than just beautiful minimalism…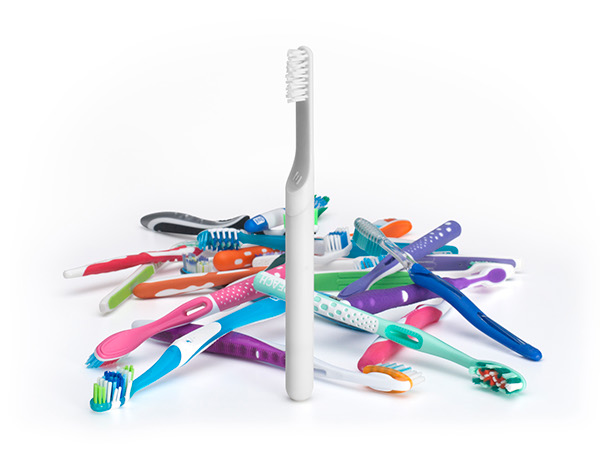 A LIFESTYLE PRODUCT |
The Aluminum and Wooden handle range in our "byDEFAULT" collection provides consumers with materials to match their modern lifestyle, but our premium selection alone could never cater to all tastes and needs
TOTAL CUSTOMIZATION |
By partnering with fellow designers and customers we are building a growing catalog of printed plastic handles in our "myDEFAULT" collection, where you can create or choose from numerous colors and unlimited shapes and sizes to match your unique style and needs
MANUAL? ELECTRIC? YOU CHOOSE |
providing a premium brushing experience for every user was key. vibrating toothbrushes have grown in popularity but current solutions are bulky, wasteful and expensive. By dropping a triple A battery and our vibration module into the handle of your manual default brush and tapping the touch sensitive logo, you can transform it into an electric one without compromising on size or style.
HEAD SUBSCRIPTIONS | Remembering to replace your toothbrush is not easy so we are offering an optional subscription service to send you replacement heads at dentist recommended 3 month intervals ( or you can simply buy a pack for the year). The snap on head makes replacement quick and easy while reducing toothbrush landfill by up to 80%
INTERCHANGEABLE HANDLES |
Every buyer will receive a complete default toothbrush and can quickly and easily swap in your custom handles using the penny slot screw on the base of the brush
TRAVEL MOUNT CAP |
Using a durable, embedded strip of micro suction film, our cap allows you to mount the brush to any smooth surface without leaving any residue, providing a convenient and germ free stand when not in use. the cap can also be used to seal the brush during travel, keeping both the bristles and your bag protected and clean when you to take your toothbrush to work or on vacation
START OF A PLATFORM |
This is the start of a platform that can revolutionize a tired industry. New handle designs, smarter vibration motors and unique head attachments can keep this product adapting for years to come
AFFORDABLE TO ALL |
with the default brush, including cap, starting at just $19 and the Vibration Module upgrade adding only 20 more, we have worked tirelessly to make this product and its premium brushing experience accessible to all